Builders, Commercial Developers and Investors! Opportunity for Re-Zone of Agricultural Farm Land for Sale, along the East side of the Kirkpatrick Turnpike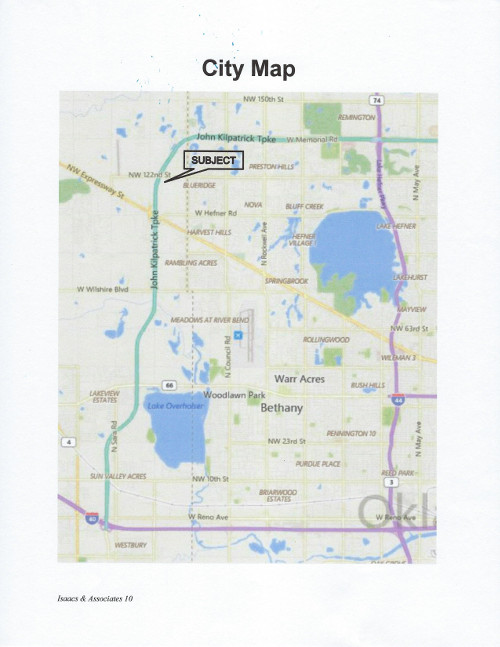 91.41 acres of land for sale strategically situated land on N.W. 122nd between N. Morgan Road and N. County Line Road, in northwest of Oklahoma City and nicely centered between Bethany, Yukon, Piedmont, and Edmond is available for sale.
Attention Builders, Commercial Developers and Investors! Here's the opportunity for re-zone of agricultural farm land, along the East side of the Kirkpatrick Turnpike, just West of N. County Line Road at the 9400 block of N.W. 122nd Street. Major traffic arteries include Britton Road, Hefner and Memorial… as well as the Northwest Expressway. The schools are Piedmont districts, with OKC utilities. Oklahoma City has a 12"water line on N.W. 122nd. OG&E electric and ONG gas, are the utility service companies with easements on this 91.41 acres. Closest OKC sewer lines need engineered to location from ˝ East at County Line Rd, and N.W. 122nd.
This tract was part of a larger parcel that the Kilpatrick Turnpike split into. It's been in this family since the early 1900's. Currently pasture is mix of agricultural land that is bailed and also in wheat crop management. No lease is in force and crop is at risk if land is sold before a harvest. Highest and Best Use is for mix of commercial and residential tract development. Close developments are Ponderosa Estates, Willow Bend, Carlisle Crossing, Savannah Estates, Montereau Addition and the Grand Addition.
ALTA Survey will be available soon for your buyers review, and abstracting is up to date and ready for closing.
9400 block of N.W. 122nd St., OKC
Piedmont Schools
Oklahoma City 12" Water at Road
OG&E Electric & ONG Gas
OKC Sewer needs Engineering
Mixture Pasture & Crop Land
OKC Apply for Re-Zoning
ALTA Pin Survey Available
Call, Email or Text to get Information Packet on this Tract!


REAL ESTATE, LLC
Real Estate License Number: 140437
By Appointment
23261 280th Street
Washington, OK 73093
Sales: 405-249-2810
Fax: 405-288-6137





Home | Deborah's Corner | Deborah's Blog | For Sale | Sold | Don't Lose Your Home | Oklahoma Foreclosures | Testimonials | Deb's Tips for Sellers | Buyer and Seller Hangups | Contact Deborah | Links | Table of Contents
Copyright © 2007 - 2016 Deborah Allison Real Estate, LLC
Designed and Hosted by Castle McCall, Inc.