80 Acres of Land for Sale on Sooner Avenue in Purcell...The Heart of Oklahoma's Original Equine Horse County Real Estate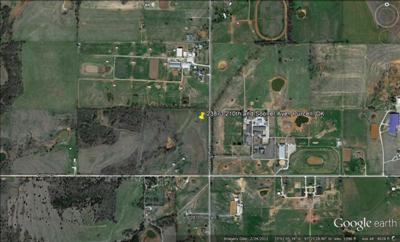 This eighty acre tract of land for sale is among Purcell oldest and most prestigious horse facilities. The old homestead and barn was used to run family cattle business and now ready to sell.
Located near some of Oklahoma's premiere horse facilities, this property is priced accordingly for the land only, and with seller motivation. Please drive out or call or email with questions. All AS-IS and Cash offers will be considered.
Property listed by Carwile Real Estate & Property Management.
Located in the Heart of Horse Country!
23873 210th, Purcell, OK 73080
Corner of County Road 210th and Blacktop Sooner Ave.
A "True" 1320 X 2640 Eighty Acre Tract
Two Ponds, (when the rains come again)!
Room for Arena, Track, New Buildings, etc.
No Value for Home or Barn
Currently Fenced for Cattle Ranching AS-IS
Sheet Metal Barn AS-IS
1406 Sq. 3BR/2BA Foot Brick Home AS-IS
Motivated Sellers...Make Offer!
Call for detailed information or showing!
This property is conveniently located near these premiere horse facilities.


REAL ESTATE, LLC
Real Estate License Number: 140437
By Appointment
23261 280th Street
Washington, OK 73093
Sales: 405-249-2810
Fax: 405-288-6137





Home | Deborah's Corner | Deborah's Blog | For Sale | Sold | Don't Lose Your Home | Oklahoma Foreclosures | Testimonials | Deb's Tips for Sellers | Buyer and Seller Hangups | Contact Deborah | Links | Table of Contents
Copyright © 2007 - 2016 Deborah Allison Real Estate, LLC
Designed and Hosted by Castle McCall, Inc.