Grandview Estates II: 1.5 Acre Tract/Lot for Sale in near Town of Purcell, OK's North Side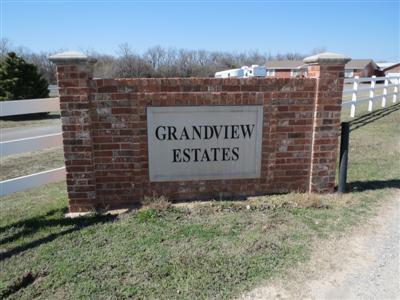 Grandview is a private road cul-de-sac, located just 2 miles south and west of the Kelsey Chevrolet dealership off SH 74. Bring in your own builder or choose a local contractor to build your custom home on this last tract, lot 10, in the Grandview Estates. City water line, fire hydrant and buried subsurface OEC Electrical is ready and waiting at the addition. With easy access to town, this tract is located near the hospital, fire and police departments, United Grocery store and Purcellís new high school.
Grandview Estate has a $100 per year HOA fee for the private road maintenance, with few Covenants and Restrictions like a 1500 sq. ft. minimum home with exterior construction of 50% rock, brick or stone. Please email, text or call for copy of C&Rís or more detailed information.
Located West of SH 74 on 230th then, North on Grandview Lane & around to Pony Lane, Lot 10
6Ē Purcell Rural Water Line at Lot
Water Hydrant at Corner of Pony Lane, (Great for Insurance Rates)!
OEC Underground Electric at Lot
HOA Fees are Only $100 per year for Private Road Maintenance
Ask for Copy of C&Rís
Minimum of 1500 sq. ft. Living Area for Building
Purcell Schools
Easy Access to I-35 to Norman
Call for detailed information or showing!


REAL ESTATE, LLC
Real Estate License Number: 140437
By Appointment
23261 280th Street
Washington, OK 73093
Sales: 405-249-2810
Fax: 405-288-6137





Home | Deborah's Corner | Deborah's Blog | For Sale | Sold | Don't Lose Your Home | Oklahoma Foreclosures | Testimonials | Deb's Tips for Sellers | Buyer and Seller Hangups | Contact Deborah | Links | Table of Contents
Copyright © 2007 - 2016 Deborah Allison Real Estate, LLC
Designed and Hosted by Castle McCall, Inc.