City Lots for Sale in Purcell, Oklahoma's Crown Heights Addition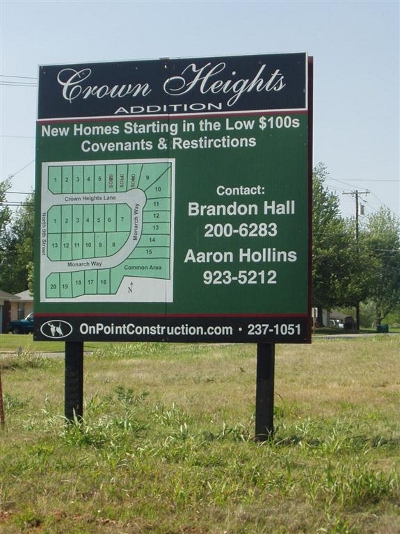 Purcell, Oklahoma's newest addition, Crown Heights, is a cul-de-sac located just off North 9th street, just south of Mark Heitz Ford, where you will find over 20, (Just Reduced) city lots for sale for you to choose from. Bring in your own builder, or choose from several great builders available in Purcell to build your custom home.
These new city lots for sale are located within blocks of hospital, fire and police departments, United grocery store and Purcell's new high school, with all city utilities available. New pricing makes these very competitive with any other lots for new construction. Make builder an offer… you will be very pleased.
New Addition in Purcell, Oklahoma
Just reduced $4000 per lot, Now offered at $18,000 (OBO)
All City Utilities Available
New Construction Only
330 X 1322 land dimensions
Choose Your Own Builder
Cul-de-sac with New Curbed Blacktop Streets
Call Deborah for more information today.


REAL ESTATE, LLC
Real Estate License Number: 140437
By Appointment
23261 280th Street
Washington, OK 73093
Sales: 405-249-2810
Fax: 405-288-6137





Home | Deborah's Corner | Deborah's Blog | For Sale | Sold | Don't Lose Your Home | Oklahoma Foreclosures | Testimonials | Deb's Tips for Sellers | Buyer and Seller Hangups | Contact Deborah | Links | Table of Contents
Copyright © 2007 - 2016 Deborah Allison Real Estate, LLC
Designed and Hosted by Castle McCall, Inc.