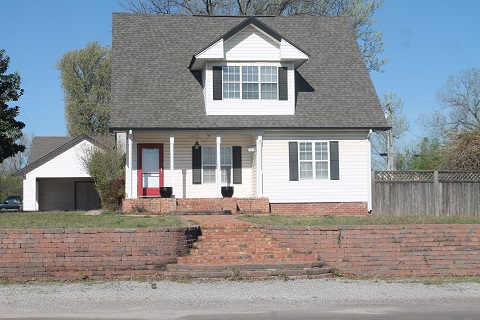 Historical Two Story Home for Sale in Washington, Oklahoma

This Historical 111 Year Old Two Story Home for Sale in Washington, Oklahoma on the Corner of Main and Morehead is Structurally Sound and Totally Remodeled with Integrity to the Original Floor Plan
A piece of history is preserved with this beautiful 2001 "top to bottom" remodel - keeping the original design of the 2-story home intact. This one's a honey! All new carpet throughout the entire home. Amenities include geo-thermal HVAC, double pane vinyl windows and siding, original interior doors & hardware, and updated kitchen, appliances and baths. A nice size utility room and a library/office was "needed" addition to this historical home because… who wants to do laundry by hand, like they did in 1906!
The 24X24 shop is a dream for the handyman or storage, and your cars are protected from the elements under the dbl. carport. A ole time porch covers the back of the house, and adjoins the above ground pool with nice wooden deck, a fountain that flows into the koi fish pond, and… an old fashion out-house finishes off the back yard charm for storage of rakes and shovels or pool toys. It's just too cute to pass up! So, don't wait… I don't think it will be on the market long.
101 N. Main, Washington, OK 73093
Built in 1906
3 Bedrooms & 2 Full Baths
Totally New Kitchen & Appliances
A Dining Room, A Living Room & a Library
Staircase and Cute Landing!
Updated Dbl. Pane Vinyl Windows
Geo-Thermal HVAC
Covered Back Porch the Length of Home
Beautiful Retaining Wall
Above Ground Pool and Deck
Fountain and Koi Fish Pond
Dbl. Car Carport
24X24 Shop with Concrete Floor & Electric
Washington Schools
Call, Text or Email for Detailed Information or showing! Or...Take a Photo Tour of Home


REAL ESTATE, LLC
Real Estate License Number: 140437
By Appointment
23261 280th Street
Washington, OK 73093
Sales: 405-249-2810
Fax: 405-288-6137





Home | Deborah's Corner | Deborah's Blog | For Sale | Sold | Don't Lose Your Home | Oklahoma Foreclosures | Testimonials | Deb's Tips for Sellers | Buyer and Seller Hangups | Contact Deborah | Links | Table of Contents
Copyright © 2007 - 2016 Deborah Allison Real Estate, LLC
Designed and Hosted by Castle McCall, Inc.