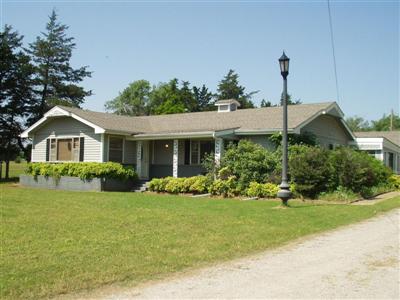 Farm Home for Sale in Washington Oklahoma School District

26497 High Ave., Washington, OK  73093: Farm Home for Sale in Washington School District! Great old Homestead on Small Acreage with Storage Building, Barns, and Loafing Sheds for Cows, Horses, Pigs and Chickens.
What a great place to raise your family on! Old family homestead is available and move in ready. This 2064 square foot home has 2 living rooms, a formal dining area, a pretty good size utility room and a 380 sq. ft. basement but...has only 1 bath. Roof was just removed and replaced with one layer of new shingles but… had a leak in the hall from the old roof. Home has newer central heat unit, with duct work but...no central air. Home has newer vinyl siding but...older windows. This house is a home… but needs a loving owner to do some "honey do's".
Now the outside… there's was such a beautiful, maintained landscaped yard with pool, decks, water gardens with lily pads and flowers. Now it's hard to keep up with. The owner has just installed rural water to work with the old water wells, (still in use). The old barn has a loft for storing hay to feed the dairy cows at the milk barn, and the sheds in the back are perfect for keeping the pigs out of the summer sun. Come take a look! You fall in love with the homestead and the price of this little farm.
3 Bedrooms, 1 Bath
Built in the Early 60's but, the Court House Records 1970
2064 Sq. Ft. of Living Space
2 Living Areas
2 Dining Areas
264 Sq. Ft. Enclosed Sun Porch
Double Car Port that Matches House
380 Sq. Ft. Basement
Central Heat
Rural and Well Water Supply
Move In Ready
Small Acreage, Barns, Sheds and Storage Buildings
Pool, Deck and Koi Pond
Call for detailed information or showing!


REAL ESTATE, LLC
Real Estate License Number: 140437
By Appointment
23261 280th Street
Washington, OK 73093
Sales: 405-249-2810
Fax: 405-288-6137





Home | Deborah's Corner | Deborah's Blog | For Sale | Sold | Don't Lose Your Home | Oklahoma Foreclosures | Testimonials | Deb's Tips for Sellers | Buyer and Seller Hangups | Contact Deborah | Links | Table of Contents
Copyright © 2007 - 2016 Deborah Allison Real Estate, LLC
Designed and Hosted by Castle McCall, Inc.