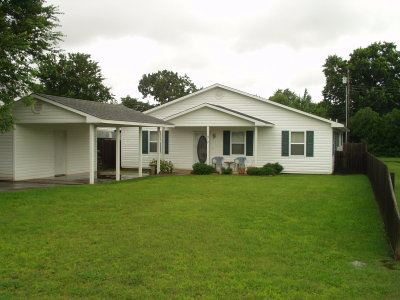 2002, Excellent Condition, Three Bedroom and Two Bath Home for Sale in Wayne... No need to Paint Here...  Vinyl Siding!

Come to Wayne to buy more house for the money!
This home looks like new, and the mechanicals look like they were just installed. Nice clean walls and cabinet work are unmarred. Large, open living room, dining and kitchen have a vaulted ceiling which gives an open feel and lots of room for moving furniture around.
The master bedroom is large enough for a king size bed, a full dresser, bachelors chest and a chair. The master bedroom also has a large bathroom and a walk in closet.
A new stockade wood fence all around the back yard is an expensive amenity to have and there's alley access too for a Boat or RV.
So be sure to put this home on your list to view before you buy anything in Wayne!
2002 Home for Sale in town
3 Bedrooms, 2 Baths
1755 Sq. Ft.
City utilities
Carport with storage closet
Concrete driveway
All vinyl siding
Only 8 mile to Wal-Mart Super Center
Call for detailed information!


REAL ESTATE, LLC
Real Estate License Number: 140437
By Appointment
23261 280th Street
Washington, OK 73093
Sales: 405-249-2810
Fax: 405-288-6137





Home | Deborah's Corner | Deborah's Blog | For Sale | Sold | Don't Lose Your Home | Oklahoma Foreclosures | Testimonials | Deb's Tips for Sellers | Buyer and Seller Hangups | Contact Deborah | Links | Table of Contents
Copyright © 2007 - 2016 Deborah Allison Real Estate, LLC
Designed and Hosted by Castle McCall, Inc.